Jury foreman says it was clear J&J was `hiding something'
Company faces about 1,200 more suits over talc products
Call us at 866-308-1092, or email us at intake@monroelawgroup.com, for a free case review if you or a loved one suffered ovarian cancer after using Johnson and Johnson Baby Powder or another Talcum Powder product.
Johnson & Johnson must pay $72 million to the family of a woman who blamed her fatal ovarian cancer on the company's talcum powder in the first state-court case over the claims to go to trial.
The world's largest maker of health-care products faces accusations by the family of a woman who died that it knew decades ago that talc, the Earth's softest mineral, was linked to ovarian cancer. The verdict may set the tone for whether J&J fights or tries to settle 1,200 lawsuits over products such as baby powder.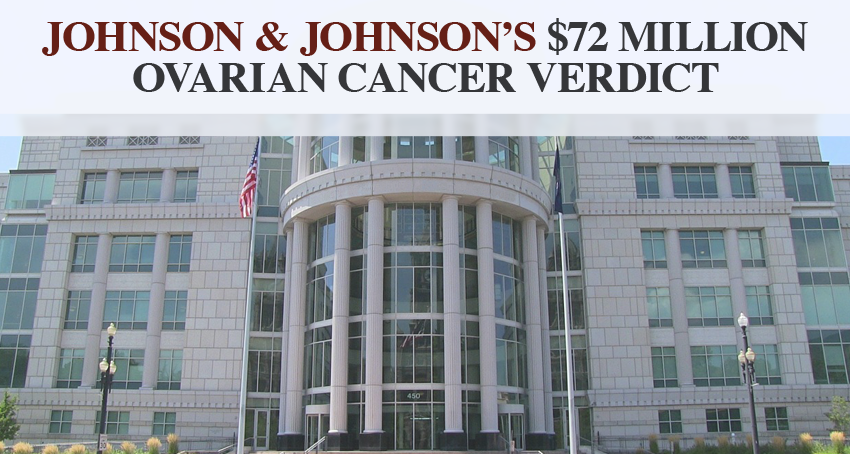 To win the case, lawyers for the family of Jackie Fox, who died of ovarian cancer last year, will have to prove that talc in J&J's products caused her disease and the company knew the risk and failed to warn customers.
J&J's internal documents will show it knew of studies connecting talc use and ovarian cancer but continued to market it, particularly to African-American and Hispanic women, plaintiff's attorney Allen Smith told jurors at the start of trial Tuesday in state court in St. Louis. "The evidence — the internal documents — will show that the company valued profits over human life," he said.
The "best and most recent" studies show no link between talc and ovarian cancer, Gene Williams, a J&J attorney, countered. "We don't have to warn based on a plaintiff's suspicions."
The trial, before a jury of nine women and three men, is expected to last two to three weeks. Either side, to win, will have to persuade nine of the 12 jurors.
Last week, the judge rejected J&J's bid to dismiss the suit, saying there was "ample evidence" that might lead a jury to conclude it conspired to hide the risks of talc. The company based its request in part on an April 2014 statement by the U.S. Food and Drug Administration that it didn't find "conclusive evidence" of a link between talc used for feminine hygiene and ovarian cancer.
'Mere Cosmetic Products'
The FDA has "a limited scope of regulatory authority over mere cosmetic products," the judge said.
J&J also contends that Fox's family can't prove talc caused the Birmingham, Alabama, resident's cancer and that regardless, a warning label wouldn't have stopped her from using it.
"The cause of ovarian cancer is unknown," Williams told the St. Louis jury Tuesday. Fox had several other risk factors, including blocked fallopian tubes, Williams said.
The Fox family isn't claiming that talc was the sole cause of her cancer, but that it was "a contributing factor," Smith said. The plaintiff doesn't have to prove that talc is the only cause for J&J to be held liable, he said.
Fox "suffered horribly" and underwent several rounds of chemotherapy before dying at the age of 62, Smith said.
J&J marketed its Shower to Shower brand talc for feminine hygiene. One 1988 ad promised "just a sprinkle a day keeps odor away." Fox said in a deposition about six months before she died that she was "raised on" Johnson's Baby Powder and Shower to Shower talc and used it every morning until she was diagnosed with cancer. Valeant Pharmaceuticals International Inc., which acquired the Shower to Shower brand in 2012, isn't a defendant in the case.
Risk Finding
Researchers began linking talc to ovarian cancer in the 1970s, the family claims. Evidence in the trial will include studies by Daniel Cramer, a Harvard University professor and doctor at Boston's Brigham and Women's Hospital, who found in 1982 that women who reported genital-talc use faced a 92 percent increase in the risk of developing ovarian cancer. Cramer, in a new study with colleagues released in December in the journal Epidemiology, concluded talc was associated with a 33 percent rise in the risk of ovarian cancer, which worsened the longer it was used.
"J&J was aware of every one of these studies going back 30 to 40 years," Smith told jurors Tuesday. A government study in the mid-1990s showed that talc caused cancer in rats, spurring J&J and others in the industry to form a task force as a "defense strategy" to prevent government regulation, he said.
Multiple government agencies have rejected calling for warning labels on products that include talc, said Williams, the J&J lawyer. The FDA held two days of hearings on the issue in the mid-1990s, and found no connection between talc and ovarian cancer, he said.
Talc is an ingredient in products as varied as wallboard and the powder that keeps elastic balloons from sticking together. Baby powder is estimated to be an $18.8 million market in the U.S., according to the Statistic Brain Research Group. About 19 percent of U.S. households use J&J's brand, according to another research group, Statista.
Corn starch has been widely substituted for talc as an absorbent in baby powder and feminine hygiene products. The American Cancer Society advised in 1999 that women use corn starch-based products in the genital area. J&J, which introduced a baby powder using corn starch in the 1970s, continues to offer products that include talc and maintains the substance is safe.
Talc-related claims may generate some high-dollar verdicts, said Erik Gordon, a University of Michigan professor who teaches classes about how drugs are developed and regulated.
"Anytime you bring a case with the C word to trial, there's a chance for a big verdict," Gordon said in an interview. "People will be watching this one closely."
The damages could add up for J&J if it's found liable. Fox's case is one of about 1,000 filed in state and federal courts in Missouri. About 200 more have been brought in New Jersey.
About 20,000 women in the U.S. are diagnosed with ovarian cancer annually and more than 14,000 die, according to the Centers for Disease Control and Prevention.
The Ovarian Cancer Association Consortium in 2014 put the increased cancer risk at 24 percent. That study, like Cramer's, concluded women who used talc products on areas other than their genitals didn't face increased cancer risk. But another study that year published in the Journal of the National Cancer Institute found talc use on women's genitals "does not appear to influence ovarian cancer risk."
"The safety of cosmetic talc is supported by decades of scientific evidence and peer-reviewed studies," Carol Goodrich, a company spokeswoman, said in an e-mailed statement before the trial.
The case is Fox v. Johnson & Johnson, Cause No. 1422-CC09012-01, Division 10, Missouri Circuit Court, 22nd Judicial District (St. Louis).
Alert: Due to statute of limitations, the time you have to pursue a claim is limited. Call us right away at 866-308-1092, email us at intake@monroelawgroup.com, or complete the form on this page now.